The following links feature work by members of the School:
THE FIRST BOOK OF FASHION

This video features Jenny Tiramani dressing a model, Jack Brotchie, in an outfit documented as worn by Matthäus Schwarz in Augsburg in 1530. A collaboration with Ulinka Rublack, Cambridge University.

DRESSING MATTHÄUS SCHWARZ
A video of Jack Brotchie being dressed in an reconstructed outfit worn by Matthäus Schwarz in Augsburg in 1530. The clothes were researched and cut by Jenny Tiramani and stitched by her, with Alice Gordon, Sarah Stammler and Natasha Freeman. The belt and purse were made by Karl Robinson, the cap by Rachel Frost, the shoes by Sarah Juniper and the enamelled aiglets by Martin Adams. A commission by Dr. Ulinka Rublack, Cambridge University.
Click the image to view

THE STUDY OF A MID-SIXTEENTH CENTURY BRIGANDINE
An online article by Jenny Tiramani for the Royal Ontario Museum of an object studied there in 2010 with the Veronika Gervers Fellowship.
Click image to view

AUDIO: SEVENTEENTH CENTURY MEN'S DRESS
Theatre designer Jenny Tiramani discusses early 17th century clothing for the V & A Museum.
Audio: Early 17th-Century – Click image to view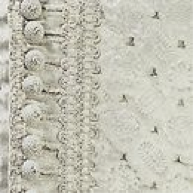 DRESSED TO THRILL
This dressing event was held at the Scottish National Portrait Gallery in Edinburgh. Four models were dressed in Elizabethan and Jacobean clothing by Jenny Tiramani, Hattie Barsby, Natasha Freeman and costume students from Edinburgh School of Art.
Click image to view
VICTORIAN GLAMOUR REVISITED
In a first for the National Trust, the public was last summer able to watch live as Luca Costigliolo spent a week at the mansion at Rothbury, recreating Alexandra's dress using the same materials, cutting and sewing techniques employed in 1884.
http://www.northumberlandgazette.co.uk/news/local-news/victorian-glamour-revisited-1-3309245
JOSEPHINE BOWES' DRESS
Luca Costigliolo recreated a c.1858 pink silk dress worn by Josephine Bowes, founder of the Bowes Museum in a surviving portrait of her. Luca made the dress in the museum itself while being watched by visitors. A series of youtube links follow his progress day by day.
THE ART OF DRESSING IN THE 1870s
A video dressing of the reconstruction of an 1872 dress by Luca Costigliolo. The dress was made by costume design students at the National School of Cinema in Rome under Luca's tuition.
http://www.indigomultimedia.com/portfolio/art-of-dressing
late shift extra: the elizabethans undressed
An evening of dressing and undressing characters in reconstructed hand-made Elizabethan and Jacobean dress by members of the School on 25th October 2013.
http://www.npg.org.uk/whatson/lateshift/late-shift-extra/elizabethans.php