The following videos feature work by members of the School:
TREASURES IN THE WADDEN SEA
The Palmhout wreck BZN-17 that lies off the coast of Texel contains a unique cargo, among them several exceptionnal early seventeenth-century pieces of textile, both clothing and furnishing, most of Western origin and some probably from the Ottoman Empire.
THE FIRST BOOK OF FASHION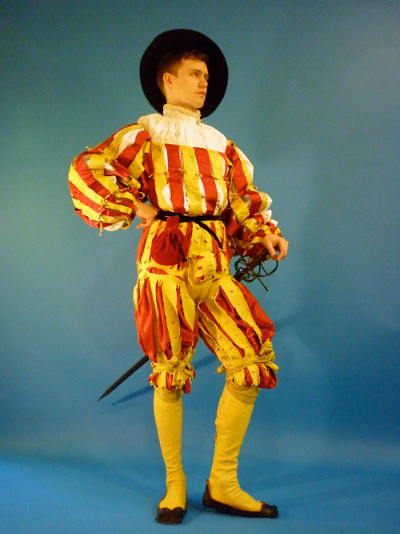 The first video features Jenny Tiramani dressing a model, Jack Brotchie, in an outfit documented as worn by Matthäus Schwarz in Augsburg in 1530. A collaboration with Professor Ulinka Rublack (St John's College, University Cambridge).
The second video video shows the  recreation of a lavish headdress with ostrich feathers worn by Matthäus Schwarz. The completed headdress measures more than a metre in width and 45 cm in height. It comprises a split-rim bonnet made of felt, satin and velvet; and the feather headdress itself, which sits on a light-weight wire frame. Thirty-two long ostrich feathers, sewn together to form sixteen plumes, cover this structure, complete with gold spangles which were individually stitched with metal thread onto every spine.
DRESSING MATTHÄUS SCHWARZ
A video of Jack Brotchie being dressed in an reconstructed outfit worn by Matthäus Schwarz in Augsburg in 1530. The clothes were researched and cut by Jenny Tiramani and stitched by her, with Alice Gordon, Sarah Stammler and Natasha Freeman. The belt and purse were made by Karl Robinson, the cap by Rachel Frost, the shoes by Sarah Juniper and the enamelled aiglets by Martin Adams. A commission by Dr. Ulinka Rublack, Cambridge University.
Click the image to view

DRESSED TO THRILL
This dressing event was held at the Scottish National Portrait Gallery in Edinburgh. Four models were dressed in Elizabethan and Jacobean clothing by Jenny Tiramani, Hattie Barsby, Natasha Freeman and costume students from Edinburgh School of Art.
Click image to view
JOSEPHINE BOWES' DRESS
Luca Costigliolo recreated a c.1858 pink silk dress worn by Josephine Bowes, founder of the Bowes Museum in a surviving portrait of her. Luca made the dress in the museum itself while being watched by visitors. A series of youtube links follow his progress day by day.
THE ART OF DRESSING IN THE 1870s
A video dressing of the reconstruction of an 1872 dress by Luca Costigliolo. The dress was made by costume design students at the National School of Cinema in Rome under Luca's tuition.
late shift extra: the elizabethans undressed
An evening of dressing and undressing characters in reconstructed hand-made Elizabethan and Jacobean dress by members of the School on 25th October 2013.
http://www.npg.org.uk/whatson/lateshift/late-shift-extra/elizabethans.php